How it works
1 — Sign up for a Tapfiliate account
Use one of the above links to sign up for your own Tapfiliate account.
During setup, you'll be asked if you want to enable lifetime/recurring commissions. You can choose to enable either of these if you want to: simply select the "Smart (connected)" option and our integration will take care of tracking by unique customer ids and triggering commissions for each customer payment.
2 — Locate and copy your Account Id
After completing signup, go to your profile in your Tapfiliate dashboard and select Profile Settings. It will be at the bottom left of the screen: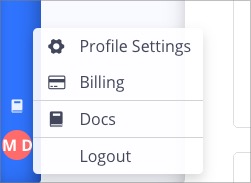 Scroll to the bottom of this page and copy the Acccount Id:


3 — Add the Account Id to your Eat•Fresh site
Sign in to the admin dashboard of your Eat•Fresh site and go to the Admin Settings page: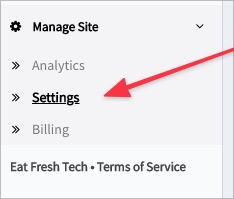 Find the Tapfiliate Account Id setting and click Edit:


Enter your account id copied from Tapfiliate in the text box, and click the Update button. Important! To start tracking with this code, make sure the Active checkbox is also checked.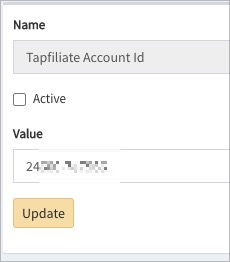 4 — Test the integration
All set, you're now ready to track affiliates and record commissions!
To test:
Have someone sign up as an affiliate through your Tapfiliate link
Have someone else follow their affiliate link and place an order
Confirm in your Tapfiliate dashboard that the order was tracked and commission recorded for the affiliate